Farnborough Grammar School
Prospect Avenue, Farnborough, Hampshire
Telephone : Farnborough 539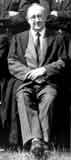 Farnborough Grammar School came into existence in September 1936 when the Aldershot County High School outgrew its premises in Highfield Avenue and the boys were relocated to Farnborough. The A.C.H.S. building was new in 1912 although it was then called the Aldershot Secondary School. It was co-educational from 1912 through to 1936 and most of its male teaching staff transferred to Farnborough, among them their Headmaster, A.E. Chapman, and his deputy, F.G. Solloway. Mr. Solloway had been at Aldershot High since the day it opened.

A booklet written by school master Basil Jowett in 1957 to commemorate F.G.S.'s 21st anniversary provides a comprehensive history of the school and its predecessors.

All additions, corrections and comments are welcome. Click here to send a message with your default email program…

F.G.S. - 1954 to 1961
Site last updated 13th July 2019


---

Masters
Wally Cotgreave, Gobo Mills, Little Richard, A.W. Richards, John Attree, Smiler Miles, Beefy Bullock, Bill Rayner, Eli Eltringham, Basil Jowett, Doc Naish, Nuncs and the Beeb.
Pupils
Ian Bonham, Lindsey Pratt, Michael Mackey, Richard Hadland, John Fouracre, Alan Parkes and many more.
---
Sports Day
Running, walking, high jump, pole vault, javelin and cricket. Bill Raynor and Eli Eltringham officiate.
Activities and Visits
The cadet force, drama, cricket, and football; photographs of the trip to the Brecon Beacons led by John Attree and other school trips.
---
Site first published March 2001 - Major revision 25 February 2005 - Extensive style changes 27 June 2007.
New domain name, f-g-s.co.uk introduced 5 September 2008.
Extensive restructuring and menu changes commenced 11 September 2011.
Transition towards a mobile compatible site optimised for broadband viewing instead of 2001 dial-up commenced August 2019.
This site is not an 'official F.G.S. site' and should not be confused with Farnborough Sixth Form College which now occupies the old F.G.S. site in Prospect Avenue.
---