FGS is being extensively modified to take advantage of faster internet connections and mobile viewing.
Click here for details
. Many pages remain in an intermediate state and some links are broken.
Farnborough Grammar School
Prospect Avenue, Farnborough, Hampshire
Telephone : Farnborough 539
F.G.S. Swiss Trip : 20th-28th April 1960
Clive Strutt's Diary

---

Square brackets and oblique text are notes added by Clive to his contemporaneous diary in 2011
Click any photo for more from the same holiday.
---
Wednesday 20th April - The coaches arrived at the Bus station but four of us stayed there while they went to school to pick up the rest. The journey to Dover was relatively uneventful. (Started at 7:00 [am], arr. 11:15. Ship (Roi Leopold III) left at noon. Pollard and I sat together on deck chairs in an ideal position. The weather was fine, and crossing most enjoyable. At Ostend we had two hours to fill in. So Pollard and I bought postcards and sent home, and I bought a two foot loaf for three francs. (I exchanged three shillings (†) for 18 francs (‡)). Then came the train journey.

The train was a through express from Ostend to Milano, via Bruges, Ghent St. Peter's, Bruxelles, Namur, Jemelle, Libre Mont, Arlon, Luxembourg, (where the train reversed and proceeded loopwise *) , Thionville, Metz, Strasbourg, Colmar, Mulhouse, Basle (Bale), Olten, Berne, and Thun. Various shuntings on and off of carriages, esp. at Metz, occurred. We had a whole carriage pseudo-reserved: one compt. was for masters, the next for UVI, and the others for the others. The train was not exactly a model of de luxe continental travel as I had imagined it. The seats were solid (covered with a sort of green leather) and narrow, and the compartments were exceedingly cramped and small indeed, besides being austere. The train was electric, (overhead with pantograph) and quite long at first, changing at Metz to a fantastically long train of about 20 coaches, speeding through the silent French night. I slept on and off, on seats, laying, sitting, and also on the luggage rack (very surprisingly, comfortable). Others slept also, incl. North with his brandy bottle, but David [Pollard] didn't. I ate my food at various times throughout the journey, including my cold chicken. Slept much of the time with Duffell and North in my compt. (most of them slept in the 'couchettes'). The train journey was very wearying, but very rewarding from dawn onwards, when the last little bit of France led into Switzerland (Bale). What a contrast! The Swiss landscape was beautiful, showing economy of means in agriculture, individuality and originality in house design, and general tidiness and cleanliness. The beautiful hues of green were all displayed on the steep mountainsides, and the blossoming trees were gorgeous. At Thun (not Interlaken) we got on a reserved trolley-bus with trailer-car and luggage trailer and arrived at Park Hotel.

[Notes: † Three shillings equates to fifteen pence in 'new' money.
‡ The Belgian franc was worth much less than the French one then.
* I am not quite sure what I meant by 'loopwise'.]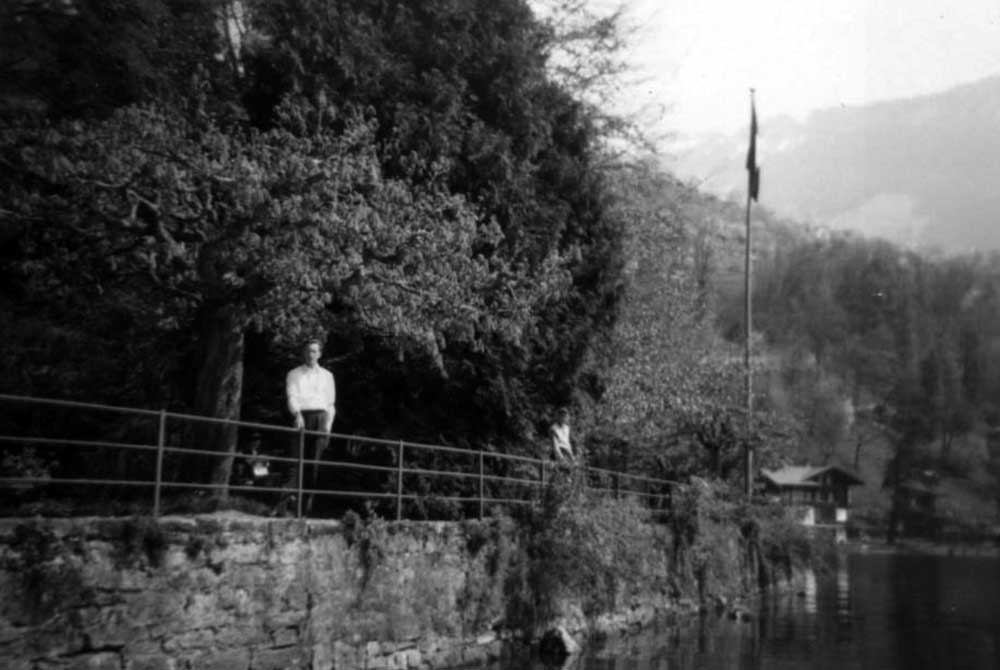 Thursday 21st April - Park Hotel, Gunten, Switzerland. – We arrived here and it is a beautiful place and a beautiful day. The Hotel is right by the Thunersee: its grounds go right down to the water's edge. This morning some of us (North, Joyce, me, David) sunbathed on the boat-house verandah. After dinner, several people swam for a short time in the freezing water. North and I did. After, we hired a boat for two francs. We both rowed, but at the end North went mad, barging the boat into the wall, and splashing about with the oars. Sunbathed, and made two unsuccessful attempts to retrieve from the depths a piece of suspected Wedgwood China (subsequently discovered to be a bucket covered in cement). In the evening Mr. Mills had a serious talk about behaviour to everyone.

Friday 22nd April – Today we got up early and went to the Jungfraujoch. Went to Interlaken by bus, then on three successive trains, two of them rack-and-pinion trains, to Jungfraujoch. The trains are all electric and belong to different companies (WAB, BOB, etc.) The rack-and-pinion railways went up very steep slopes. It was wonderful to see the inspiring and indescribably majestic scenery: just marvellous. The mountains, capped with glistening snow, rise majestically up, desolate, awe-inspiring, breathtaking in their remoteness and beauty. We changed at a valley station onto the rack-&-pinion, up the valley sides, then changed again onto the 'Jungfraujoch Bahn', cute little electric 3-car trains: most of the time it ran in a tunnel. On the Jungfraujoch there are a couple of buildings and we went up on to the pass itself. I also went in the ice palace, and along the Sphinx tunnel. The air was so rarefied that bit made me breathe harder than usual. Had a packed lunch there.

Had a small time in Interlaken on the return journey: bought a cigarette-holder (two francs), 20 cigarettes (one franc), a musical box (6 fr. 90 c.), [and] a choc ice (8d. (†)) In the evening, after dinner (omelette which was delicious, [we had several helpings], and caramel). I went up to Mr. Lees' room, with Duffell, Dunton and Mr. Booy, and we had a few drinks of local wine and French 'Sauternes', and smoked. Then went to the bar of the Hotel du Lac with Dunton and Duffell. Many others from our party were there. Drank a little. Fish, Joyce and I played a bit on the piano.

[Note: † For some reason I quoted this price in Sterling!]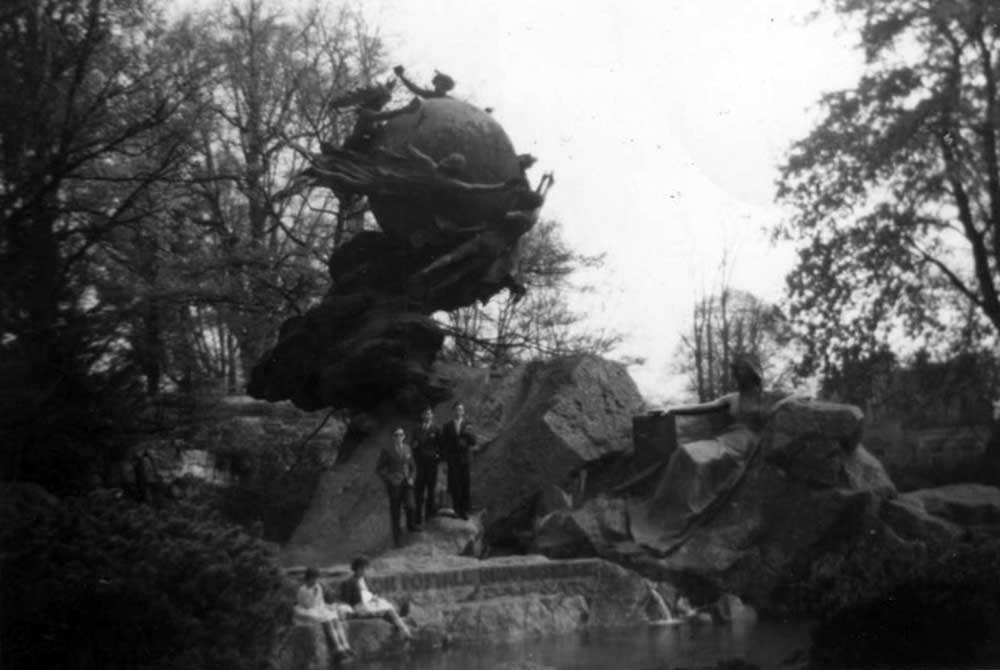 Saturday 23rd April – Today has been very sunny and pleasant. We have spent the day in Berne, the capital of Switzerland. Went by bus to Thun, and spent a little time there. Then caught a fast, fine electric train.

Spent most of the time shopping. But first we went on a conducted tour of the Swiss Houses of Parliament. A guide showed us around. We went into the House of Representatives of 196, and the Federal Council Chamber. The rooms were very spacious and luxuriously appointed, with frescoes painted by Swiss painters, green silk tapestries from Lyons, crystal chandeliers, beautiful marble from Grindelwald, Persian carpets, expensive 'slippery, political floors'. Outside there was an old gentleman claiming to be another Mahatma Gandhi; he loved all Americans, he was the friend of Abraham Lincoln, Jefferson, Walt Whitman and lots of others. He asked two American ladies to convey his greetings to the President. He claimed to be 'the Peacemaker'.

Then we went to see the bear-pit. There were five amusing bears there. Then Poll, Duff, Dunton, North and Joyce and I wandered around shopping. I bought two bottles of wine, 50 cigarillos, and a brooch. Got several photos, including one of the statue of the 'Union Postale Universelle'. Saw a long tram of four coaches (blue) crossing the bridge.

Sunday 24th April – Today has been a free day. I went with a small party of boys led by Booy and Lees up the hills behind the hotel (I always think of the hotel as fronting on the lake, and being backed by the hills.) to a small village called Sigriswil. At the hotel we stopped for refreshments. I was actually with Duffell – I had a 90 cent beer, he had some coffee. Then we walked right down a zig-zag path to the hotel. Had dinner, then spent the afternoon sunbathing, rowing, and even dived in once. Went rowing with Dunton. We also gave a shortish ride to Renouf. Although in the lee of the hotel peninsula it seems calm, out beyond the point it was very choppy and quite windyish. In the evening the mountains became as clear as crystal, a sign of rain [to come]. It did drizzle a bit. Went with Duffell, Dunton, North and Joyce to the bar de l'Hotel du Lac, and had some 'Beauregard' beer. Smoked my cigar which was an utter failure (†), and many cigarettes. Lots of our party were there.

[Note: † I can't think what this could have meant.]

Monday 25th April – Today we went to Italy. Caught the trolley-bus to Thun, then the train to Stresa, on Lake Maggiore, Italy, via Spiez, Brig, the Simplon Tunnel, (having passed through the nine mile Lotschberg Tunnel and the Rhone Valley), and Domodossola. The scenery was simply indescribably beautiful: mountains, valleys, rock scars, snow, the hills on the Italian side all clothed in birch and beech, woods, rivers, waterfalls tumbling down thousands of feet. In Italy we saw vines, and lots of verdant greenery; the houses were all different, being of stone. Lake Maggiore itself was wonderful, so was Stresa. The water was rough and sea-like, and there was a delightful promenade with hotels, shops, and parks, with exotic plants and palms. There idyllic little islands set in the lake, too. The Rhone Valley was very awe-inspiring, the railway being perched high up on the side of the valley, so that [we] were level with and even above some 'planes flying along the valley. When we got to Domodossola we found we had left Baker at Brig. Owen got off and waited for him, but he remained in Brig – the officials thought he had gone to Thun. In Stresa I bought several things, and spent all my money; some of it I changed to Italian Lira (got 1400 for ten francs). I bought some clip-on sunglasses, a film, some post-cards, a brooch, two bottles of Chianti, a statuette of Chopin, [and] a funny peaked cap.

Had delicious ice-cream and drink. Pollard didn't go, and went to Thun. He said he saw a statue of Brahms, and a plaque saying he lived there.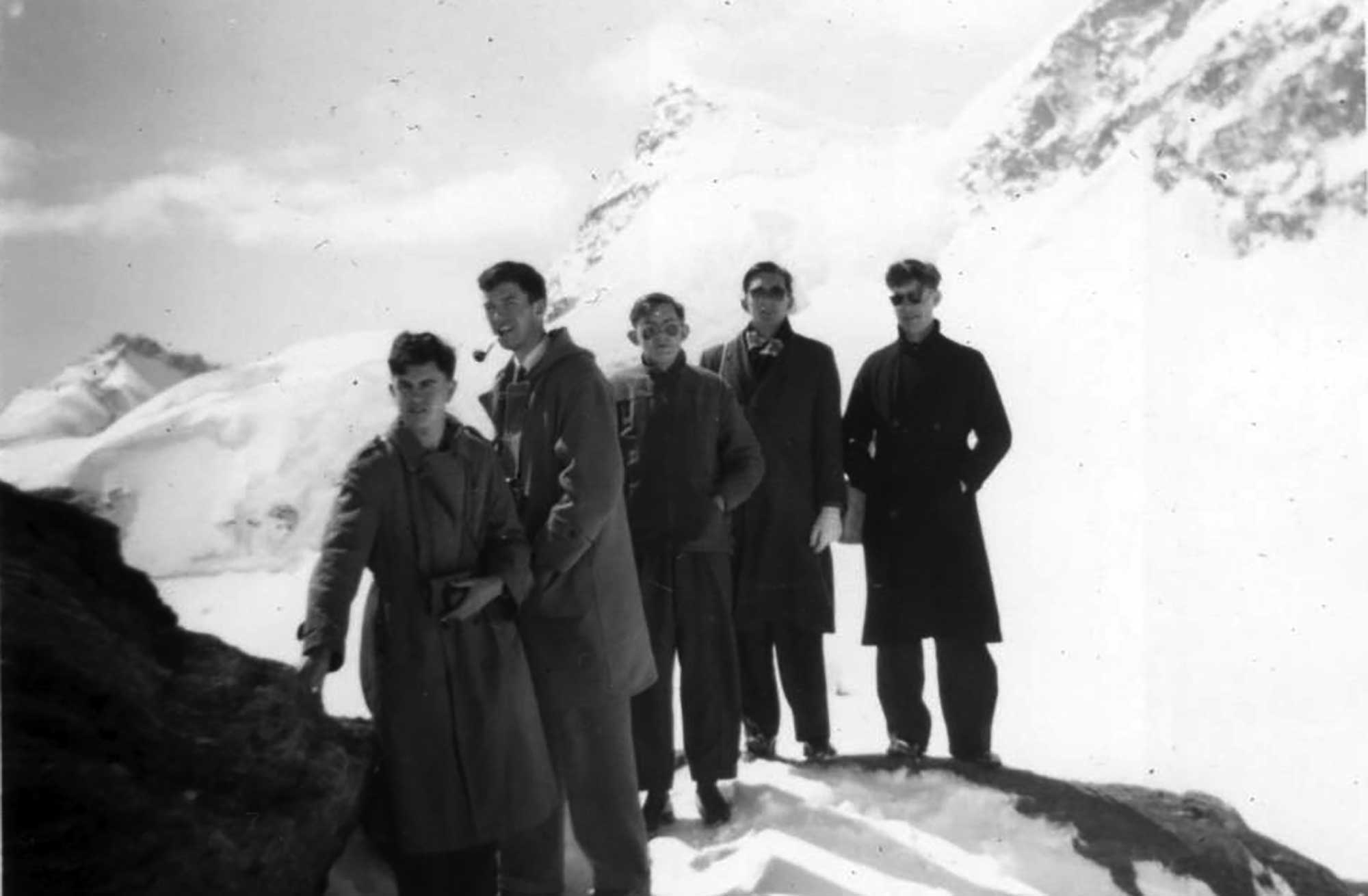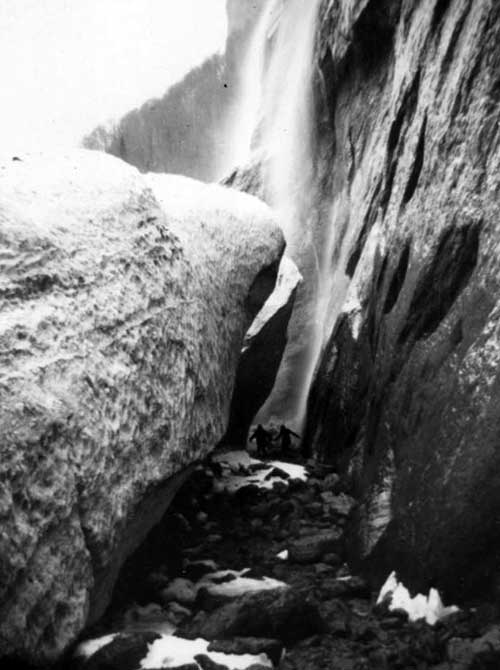 Tuesday 26th April - Today has been cloudy and cold. It has snowed in the mountains at Grindelwald and Lauterbrunnen, where we went instead of Montreux, and it is pouring with rain here at Gunten. We went in two yellow Post Office coaches, absolutely up-to-date and brand new. Their warning signals were just like Swiss horn calls. We went via Interlaken to Lauterbrunnen, through more wonderful scenery (we had been up the same route to the Jungfraujoch in the train). At Lauterbrunnen we paid 80 cents to observe the mighty cavernous waterfall. We went up through a gallery carved into the mountain in a funicular lift, and went into the hillside to see the stupendous cascades. It was quite breathtaking. Then we went back into Lauterbrunnen village, and some of us inspected an 'open-air' waterfall tumbling right down the sheer valley side. At the bottom was a thick pseudo-glacier of frozen snow. Gobey and another boy, who had got in a tunnel under the snow, as I did, got drenched when, after the fall-spray had been deflected by wind, it returned to its original course. Then we went to Grindelwald. Duffell and I were the only VIth formers. The others didn't come. Grindelwald wasn't very interesting, and the weather was very cold, too. Duff and I descended to the river and back again. Then we went to Brienz on the Brienzersee, That was dull and cold, too, although there was a gorgeous variety of wood-carvings available there, since it is the centre for wood-carvings. In the evening Fish and I played the pianos, one in the chapel, and subsequently one in the dining room, where we played to the chamber-maids and staff. They liked it. They had a hymn book and a recorder, too.
Wednesday 27th : Thursday 28th April – Today has been quite nice. In the morning (it was a free day) I went with Duffell and Hadland up the valley of the stream behind the hotel. It had a stony bed, and the valley sides got more and more steep, and U-shaped, until in an immensely deep gulf (†) the water filled the whole gulch (†) from side to side, so we could go no further.

Got a boat out with Fred and Joyce.

I walked on my own all the way to Thun (Brahms-Quai) and back. I went specifically to see and photograph the Brahms-Quai, which is a quayside built on the spot where a house once stood in which Johannes Brahms spent the summer months of 1886-8. There was a plaque on the wall, and a statue of a nude woman in his memory. In the evening I popped down [to] the Hotel du Lac where Lawson bought me a lager. I bought younger boys drinks for them because they asked me to. Then I returned and played the piano in the chapel. The manager's daughter came in and I got her to play her guitar and sing. Then others drifted in, and we ended up by us singing English tunes unaccompanied, and the waitresses singing Swiss hymns with their guitars. Owen recorded much on his tape recorder (‡).

[Note: † My geographical terms were perhaps not well chosen.
‡ I wonder what happened to that tape. Is it still around?]

Thursday 28th April – We got up early and had breakfast at 6:30. Then we bade goodbye to Park Hotel, Gunten, and its staff, who stood on the steps playing their guitars and singing goodbye songs. It was all very charming and delightful, especially as it was set in the beautiful background of Swiss scenery. We went to Interlaken by bus and thence on the narrow-gauge railway to Lucerne, over the Brunig Pass, which was snow-covered, and looked beautiful as the train wended its twisting, steep journey on the rack-&-pinion railway. When we got to Lucerne we had the whole day there. First I wandered round the shops with Pollard, Dunton, Joyce, Duffell and North. Then North and I went off; I ate lunch on a seat, took some photos and bought cards, then we rejoined the others. Joyce and I looked in the cathedral. It contained massy (†) golden ornament, and looked sumptuously rich. Then I walked by myself right to the other end of the town to the Richard Wagner Museum. It was a large, 4-storey, country mansion, set high on a peninsula in the lake, and where Wagner once lived. I got in on a student's ticket (not having sufficient money otherwise), and saw all Wagner's furniture, effects, clothes, and some original scores. He wrote there 'Gotterdammerung', 'Siegfried', 'Siegfried Idyll', 'Die Meistersinger', and something else. I actually sat in his armchair, and actually touched and played a C on his own piano. It was quite an experience looking at the scenery, and, just as at the Brahms-Quai in Thun, knowing that Wagner and Brahms have looked at the very scenery I was looking at. On the floor above was a collection of weird musical instruments, including some very out-of-tune harpsichords and spinets.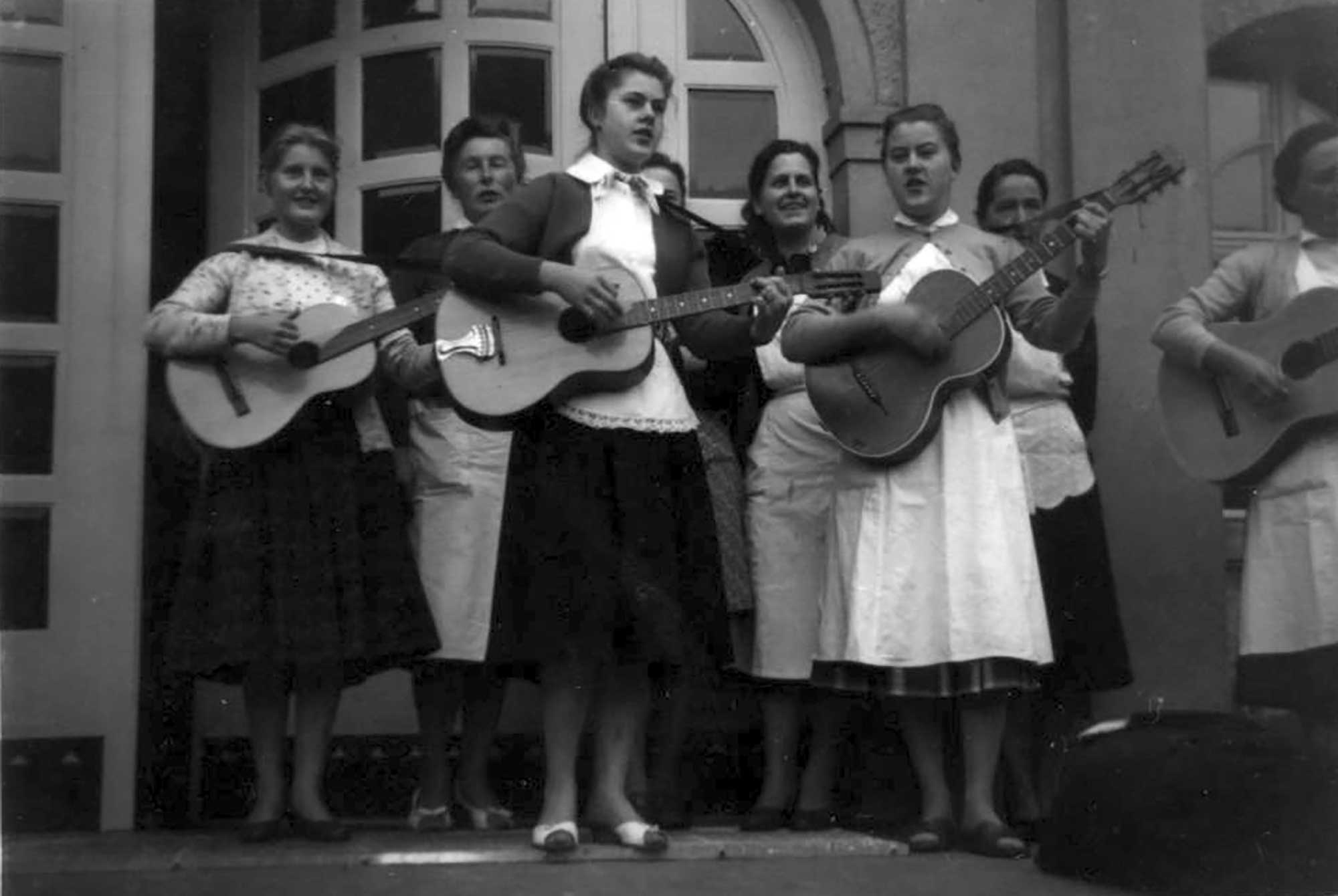 Then we went on the Bale for dinner, which was a delicious 'English' meal at a Temperance 'Alkoholfrei' restaurant: (Chips, pork, lettuce, soup, bread, water and chocolate sauce.)

Then we boarded the train for home. The 6th formers got nicely settled in a comfortable French compartment, when Lees and Owen asked us to swap with them, on the pretext that since there were girls on both sides of our school's reserved carriage, they should be there to keep an eye on our boys. The real reason, we suspect, is that they wanted a comfortable compartment with a table for bridge: ours was smaller, older, worse-lit, had an opening door instead of a sliding [one], a pull-down window instead of a wind-down one, and was noisier, but not much. We spent the night in the train (Bale-Calais), and I slept on the luggage rack. At Calais we embarked on the Channel steamer. It was supposed to go to Folkestone but it didn't, but went instead to Dover. The crossing was rough, and lots of people were sick, and I was nearly. I didn't feel at all well. Since the coaches were waiting at Folkestone, we had to stand about for hours in a freezing cold wind at Dover Station entrance. I was utterly fed up, especially since Lees, Owen etc. had enough money to guzzle a hot meal, and I just had the packed meal. Still, the coaches came in the end and we went home.

[Notes: † 'massy' was a strange word to have used but I picked it up from translations in our Latin classes which spoke of 'massy silver and gold'.]

Read Clive's entry on Wikipedia
---