FGS is being extensively modified to take advantage of faster internet connections and mobile viewing.
Click here for details
. Many pages remain in an intermediate state and some links are broken.
Farnborough Grammar School
Prospect Avenue, Farnborough, Hampshire
Telephone : Farnborough 539
David John Pollard
19 December 1942 - 26 May 2015
An obituary by Clive Strutt

---


I first knew David at a very early age – pre-infant school. His grandparents lived just two doors down from me, at 266, Lower Farnham Road, Aldershot, and David himself lived in the next street at 32, Boxalls Lane. So we were school friends over many years, from Park County Primary School, Aldershot, to Farnborough Grammar School.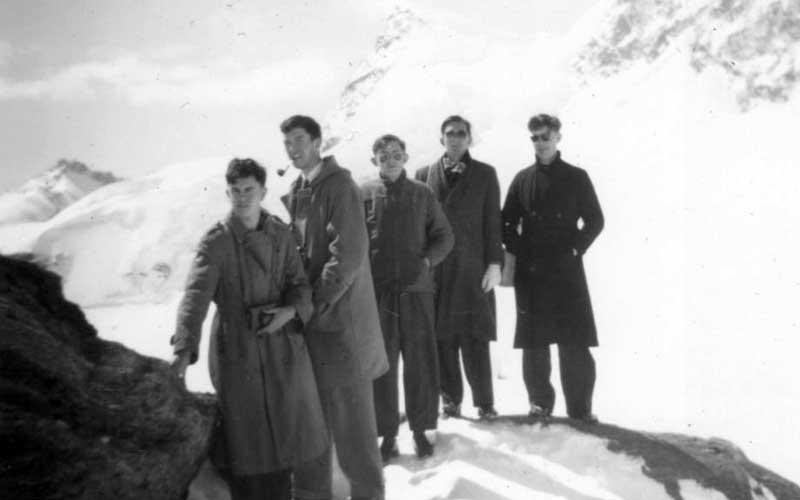 David, far right on a Swiss field trip.
After school days David and I drifted apart, although we always sent each other Christmas cards. David had gone to Southampton University where he studied languages. He had always had a leaning towards evangelical religion, and used to regularly attend the Park Hall (which was two doors up the road from my house) on Sundays. His religious convictions never left him. He married Odile, from Switzerland, and they had three children, and he spent most of his post-university life living in Wendover, and attending a church in nearby Aylesbury.

He worked for a number of years in a job which involved administration in a religious context, and eventually left this for a civil service administrative position in the Department of Work and Pensions.

In 2015 I received from him a letter in a package containing two FGS Sixth Form Arts Club magazines. He informed me that he and his wife were intending to emigrate to Switzerland in early June, and he was busy clearing out his house, and coming across these magazines he had thought of me as a possible interested recipient. In fact one of them I already had, but the other was a surprise as I had forgotten its existence, but recalled it on seeing it.

I live in the far north of the British Isles but since I was coincidentally going to be in the south in May I had the idea of making a visit to him at Wendover, having not seen him for over forty years, and never having met his wife. We settled on Sunday 31st May for this visit, and I pre-purchased a rail ticket on Friday 29th. Late the next evening (Saturday 30th) I got an email from Odile Pollard saying that David had died on the Tuesday of that week. No cause of death was mentioned, but I assumed that it must have been something like a heart attack or stroke, since there was never any previous mention of an ongoing medical condition.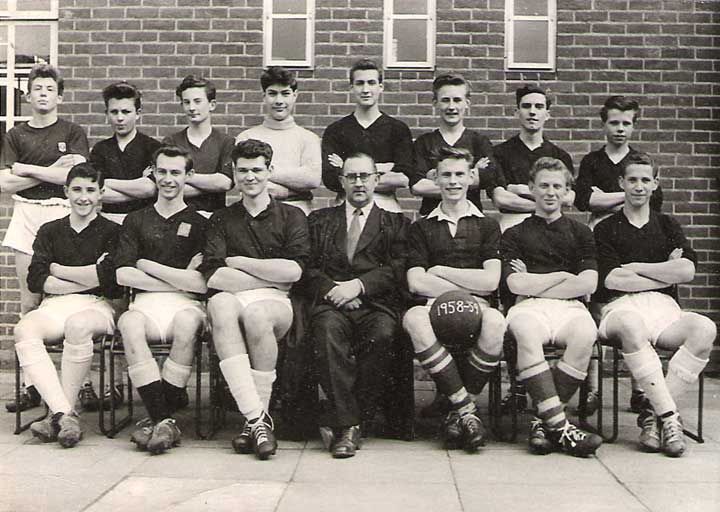 David, back row, 4th from left. Football 2nd X1 1958/59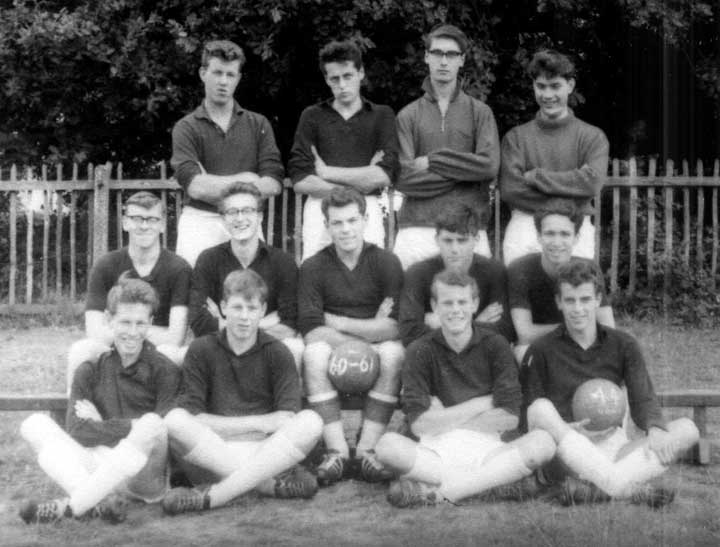 David, back row, far right. Football 1st X1 1960/61

The whole matter left me in a rather perplexed state of mind. Had I chosen an earlier weekend in May for the visit (which was possible) then I would have seen him again after all those years. Such events make one think deeply about life and death.
Clive Strutt - July 2015
---