FGS is being extensively modified to take advantage of faster internet connections and mobile viewing.
Click here for details
. Many pages remain in an intermediate state and some links are broken.
Farnborough Grammar School
Prospect Avenue, Farnborough, Hampshire
Telephone : Farnborough 539
Mike Carter (Memories) - 1959 to 1966

---


I started in 1U in 1959, the idea being we would take our GCEs in four years rather than the customary five. At the end of the First Year I found myself demoted to a five year stream. Despite this setback I did manage to last the course through to A Levels in the Upper Sixth.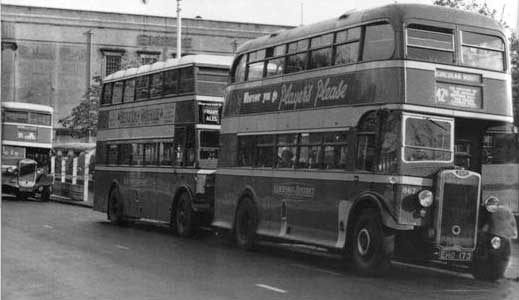 As I lived in Fleet I travelled courtesy of 'Traco', although later Fleet Coaches took over the contract. I think it was just before they did so that the number of boys became too great for the superannuated Guy double-deckers which Traco saved for school work, and for a year or so I had to travel in by train. Many years later, my daughters weren't in the least bit impressed when I told them that most days during this period I was taken to school by Sir Winston Churchill, especially when I went on to explain Sir Winston was a Bulleid steam locomotive.

Detentions were boring in the extreme. Did anyone ever complete the writing out of the School Rules? It would be interesting to see a copy if anyone has one. Was it really true that at least one master used to make all the miscreants stay until he had seen the last bus depart from the front of the school?

There are plenty of anecdotes on the site already about a lot of the staff I remember, but here are a few more:-

Nuncs

Had him for Latin in the Second Year, and on a couple of occasions was given a lift in his Austin Healey Sprite when he saw me waiting at the bus stop for the school bus.

Jo Thomas

PE was not my strong point, so I could easily say I didn't like him. However, I thought he was an excellent History teacher, although not a good person to cross. He once saw a drawing in my History Notebook which I had entitled 'The Bala Lake Monster', and I don't think he thought it terribly funny.

Unfortunately, Cadets weren't my strong point either, although I did manage to rise to the dizzy height of corporal, and spent a lot of Friday afternoons trying to teach map reading. Why did I always seem to get the 'sod squad'?

Many years later (2002) I met Jo at the F.G.S. Reunion. He didn't remember me – not that I would have expected him to. My wife, who was with me, struck up a conversation with him in the queue for the buffet and said to me afterwards that she thought he was a lovely old boy. My response was that she probably wouldn't have though the same 40 years previously.

Wally Cotgreave

Excellent teacher in my view. However, I well remember the furore when, on Tuck Shop Duty with my friend Frank Stokes, we were 2/6 short at the end of lunch! Despite this I liked him, and thought him a nice man.

Prod

I can only echo the numerous other views that he was not a particularly nice man. I too remember a lesson similar to the one experienced by Paul Lamont about electrons whizzing around at the end of your finger, questioning why there wasn't an atomic explosion when you touched anything

'Charlie' Upton

Least said the better, although I rather liked his habit of cleaning the blackboard with the sleeve of his gown.

Fleas Lees

Surreptitiously smoking in a lesson at the end of term. I wonder what Prod would have said if he had seen him?

Taffy Owen

As I'd only taken German so I could drop Latin, and in the knowledge that the following year I'd have to drop German so I could continue with Chemistry, was his remark 'Sleeps Well' on my report really fair? I suppose the answer is 'Yes', or as they apparently say in Germany 'Ja'.

Reg Smith

No doubt in his earlier years he was a good teacher, but by the time I came across him his health had deteriorated. We all thought it amusing, I'm ashamed to say.

John Herod

After Reg, Physics with him was like a breath of fresh air, and he must have been good because he got me through A Level. Many years later – 1980 or so – when 'engaged in my employment' at what was then Midland Bank in Luton – I saw him, and to my surprise he recognised and remembered me. Very nice man, although a friend of mine who had better remain nameless was a little put out when he was charged for breaking a Pyrex beaker. 10/6 as I recall – a lot of money in those days.

Sarfas

An objectionable little man who taught Physics and loved giving out detentions for the slightest reason.

'Cake' Eversfield

A History teacher who, when I was in the Second Year, tried to teach 2B Maths. Probably not his finest hour, as on one occasion he had to tell us that what he had told us the previous day was wrong.

Little Dick

In the First Year had him for History, Geography and RE, primarily I think because the other Mr Richards had died suddenly during the summer holiday. On one occasion he had struggled over to the 'Huts' on the West Field armed with all the paraphernalia for one subject, only to discover that it was not the subject he was supposed to be teaching. Rather than swap lessons he trailed back to the Staff Room for a different set of books!

Boggy Bishop

Once, in a History lesson, he managed to put his elbow through a window when trying to close it. Jack the caretaker was summoned to clear up the mess. (I've often wondered if Boggy had to pay for it – I suspect not.)

Jones

Always looked as if he still had part of his last meal lodged in his moustache. He had a cows intestine which he used to stretch round the biology Lab. When this broke, he knotted it back together.

'Gerry' North

Arrived when I was in the Fourth Year or thereabouts to teach Chemistry, and didn't seem particularly enamoured with the school's equipment. The phrase 'This phosphorous must be at least five years old' passed into the school patois.

Norman Styles

Had him for English for a large part of my time at F.G.S.. Seemed quite addicted to John Betjeman, as I recall, not that there is anything whatsoever wrong with that!

'Smiler' Miles

Assistant Head who retired while I was at the school. I well remember one occasion in an Assembly when he referred to a miscreant as a 'silly ass'. Unfortunately his rather RP accent produced an 'arse'. A lot of us thought this funny.

Foster

Who can forget about 'The hum of pleasured industry'? He once called me a 'little bastard', although I can't remember why. At the time I didn't understand the implication of this. I told my father. He wasn't amused, and threatened to contact Prod. I managed to talk him out of it.

Roy Dyer

Another Physics Master. (Why do they feature so much?) Nice man who hailed from Cornwall. At the end of one term we all turned our desks round so we were facing the back of the classroom. When he came in he completely ignored this, and started writing on the blackboard, telling us to copy it down. Not easy when you're facing the wrong way, so he had the last laugh. On one occasion he was amused, like all of us, to watch the groundsman (Mr. Hocking?) watering the cricket square with a hosepipe The angle at which the groundsman was standing gave the impression that he'd been out on the beer, and was feeling the effect.

'Natty' Wiseman

Had him for Geography and Surveying. I'm not sure where the nickname came from. He was nice while the going was good, but could get a bit worked up!

'Scarface' Mitchell

Again, I can't remember where the nickname came from. Another nice man who taught Geography and Surveying. Insisted that 'Caribbean' was pronounced with the emphasis on the second syllable, as with the emphasis on the first it was an Americanism.

Meirion-Jones (Mary Prune)

Taught Mathematics and Applied Mathematics. Always wore a three piece suit and was the bane of my life at one stage as he used to catch the Fleet bus to school in the morning. There would I be saving a seat for a friend who got on at Pondtail, when Prune would appear and take it. He would then spend the rest of the journey to school reading The Guardian. A good teacher, although very sarcastic. Went up in everyone's estimations a bit when we discovered somehow that he had been in an RAF Mountain Rescue team.

Mike Carter : April 2011
Mike's contribution shows admirably that however many 'Memories' we add there is always something interesting left to say.

The nickname Scarface comes from Frank Samuel (Scarface) Mitchell who escaped from Broadmoor in the early hours of Tuesday 8th July 1958 and made his getaway in clothes and a car stolen from a nearby house. He was pursued by police and 400 soldiers from Arborfield barracks armed with sten guns.

Malcolm Knight
---