FGS is being extensively modified to take advantage of faster internet connections and mobile viewing.
Click here for details
. Many pages remain in an intermediate state and some links are broken.
Farnborough Grammar School
Prospect Avenue, Farnborough, Hampshire
Telephone : Farnborough 539
Richard Letford - Obituary by David Hughes

---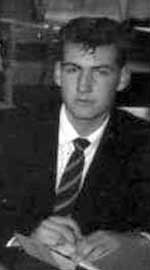 Last Wednesday I lost my oldest and dearest friend Richard Letford (1st January 1943 - 24th February 2016). Suddenly, unexpectedly and with no chance to say goodbye.

We started at FGS together in 1954 in what was called the second form but was actually the first year. I never ever understood this numbering system but while I was in class 2A he started off in 2R. Both of us from working class families who lived in council houses – Richard in Cove and me in Church Crookham - for whom the grammar school experience provided opportunities we might never otherwise have enjoyed.

Dick was a good footballer and not bad at most other sports but above all he was a superb athlete and one of the best FGS ever produced. He was the favoured son of 'Boggy' Bishop who trained the school athletics team and we often laughed about how he would spend time coaching Dick in his events while the rest of us were simply sent running round the track until we got fed up!

Our association at school developed through sport and out of school we simply became and stayed best mates. So much so that when he asked if he could date my very recent ex-girlfriend I couldn't say no. It broke my heart for a while but I never told him so and I never would.

Happily he went on to marry Pat and although in later life we rarely lived close by we always stayed in touch. He qualified as an accountant and was an early 'European' who took his young family to Holland and Belgium and on to Saudi Arabia before returning to the UK where he and his wife bought a nursing home in Cheshire with other members of her family.

I was running a business nearby at the time and he came to work with me for a couple of years before I moved back south. About 12 years ago Richard and Pat sold the home and moved to Spain and together with one of his daughters and her family bought six acres of campo mountainside near Riogordo and built a large property. His knees had 'gone' in recent years and both had been replaced but otherwise I believed him to be fit and healthy. It was here that he collapsed on his way back to the house after pruning some of the olive trees.

We visited each other back and forth over all these years and Richard and Pat were due to be with my wife and me this week for an extended stay. Such is the uncertainty of our existence.

The day after my own dear old Dad died I found an equally old man, a long time friend of his, in the house crying uncontrollably because he had lost his 'best mate'. I was deeply saddened by this but there was a part of me thinking 'hang on, I've just lost my Dad it can't be that bad? It has taken me nearly thirty years to realise that it can be and is.

Dick will be cremated in Velez Malaga on the morning of Tuesday 1st March. Gone but certainly not forgotten.
David Hughes FGS 1954-60 : 29th February 2016
---
Richard Letford - Before FGS

My recollection of Richard predates David's; we were both at Cove Junior together where Richard also excelled at football and less formal games such as British Bulldog played on the school field.

As David has said above, Richard's skills went beyond football. I could just about keep up with him on the running track but was totally useless at everything else. I was in awe of Richard's high jumping abilities, he effortlessly flopped sideways over the bar while almost everyone else was trying to straddle it in the old fashioned way.

I have not seen Richard since the day we left FGS but his passing has been a shock beyond those already reported here, probably because he was the unrivalled sporting hero.

In our final year at Cove Junior School, the teacher, 'Ma' Goddard segregated pupils by some formula known only to herself. It may have been behaviour or ability but in a class of 47 - why do I remember that number? - in a wide room with the desks arranged in 'landscape' fashion and her teaching with a chalk and easel from the long side, perhaps she had to. Certainly some of the little urchins sitting on the far right could be challenging.

I sat in the far left back corner with Richard Letford at the desk in front of me and Denley Cole on my right. John Fouracre, Margaret Cooper and Elsie Pilbeam and a couple more of which I am less certain - possibly Lindsey Pratt and Michael Rumble - made up the rest of Miss Goddard's favoured group.

My recollection is that we were all competitive little swots vying to come top of the weekly spelling and mental arithmetic tests. It was something of a shock to get to Farnborough Grammar and find that I was no better than average.

On the last day at Cove Junior I took along the Autograph Album which my Grandfather had given to me the previous Christmas. Thanks to the ravages of a young daughter with a crayon set only one page survives. It is Richard's.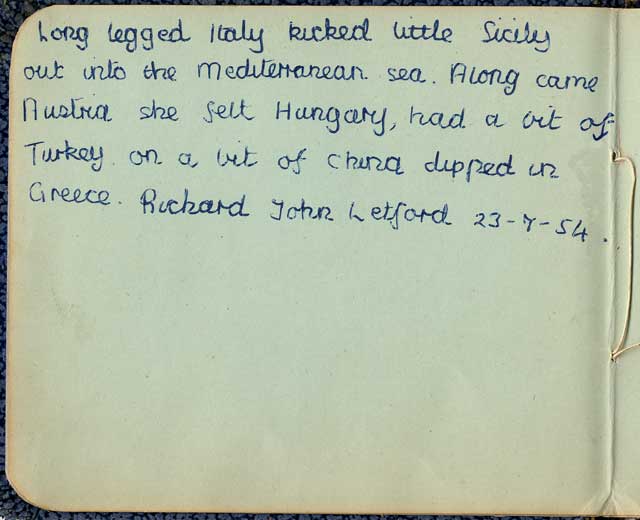 Malcolm Knight : 1st March 2016
---