FGS is being extensively modified to take advantage of faster internet connections and mobile viewing.
Click here for details
. Many pages remain in an intermediate state and some links are broken.
Farnborough Grammar School
Prospect Avenue, Farnborough, Hampshire
Telephone : Farnborough 539
School Masters in the 1950s

---



Click an image to see the associated photo collection
---
A few sneaky pictures of school masters and a more formal group dating from 1957. A pity I didn't have my camera at the ready when The Jab (a.k.a. the Prod) was lecturing a small class of bored individuals on the perils of smoking. He went to sneeze at one point, hastily scrambled for his handkerchief and a packet of 20 Players Virginia fell out of his trouser pocket. Sniggers all round!
John Attree also appears on the 'Welsh Holiday' pages and Eli Eltringham along with Bill Rayner may be seen on the 'Sports Day' pages.
---
---
---
---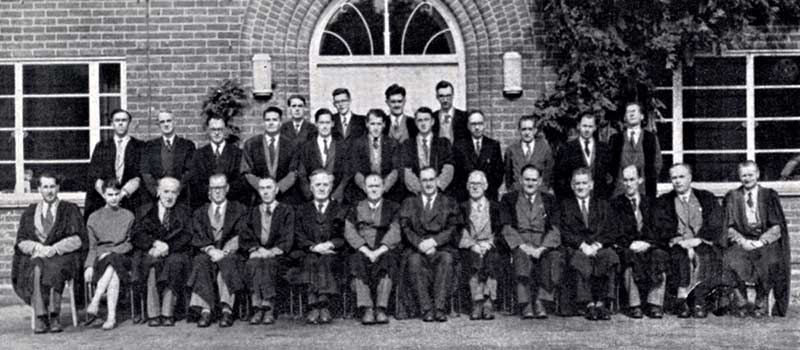 Group photograph which appeared in the school's 21st anniversary celebration booklet of 1957.
These three photographs supplied by Leslie Smith, John Fouracre and Paul Cooper respectively.

Click on any image for larger versions. The larger group photos include names.
---