FGS is being extensively modified to take advantage of faster internet connections and mobile viewing.
Click here for details
. Many pages remain in an intermediate state and some links are broken.
Farnborough Grammar School
Prospect Avenue, Farnborough, Hampshire
Telephone : Farnborough 539
Prefects

---

1953 - 1954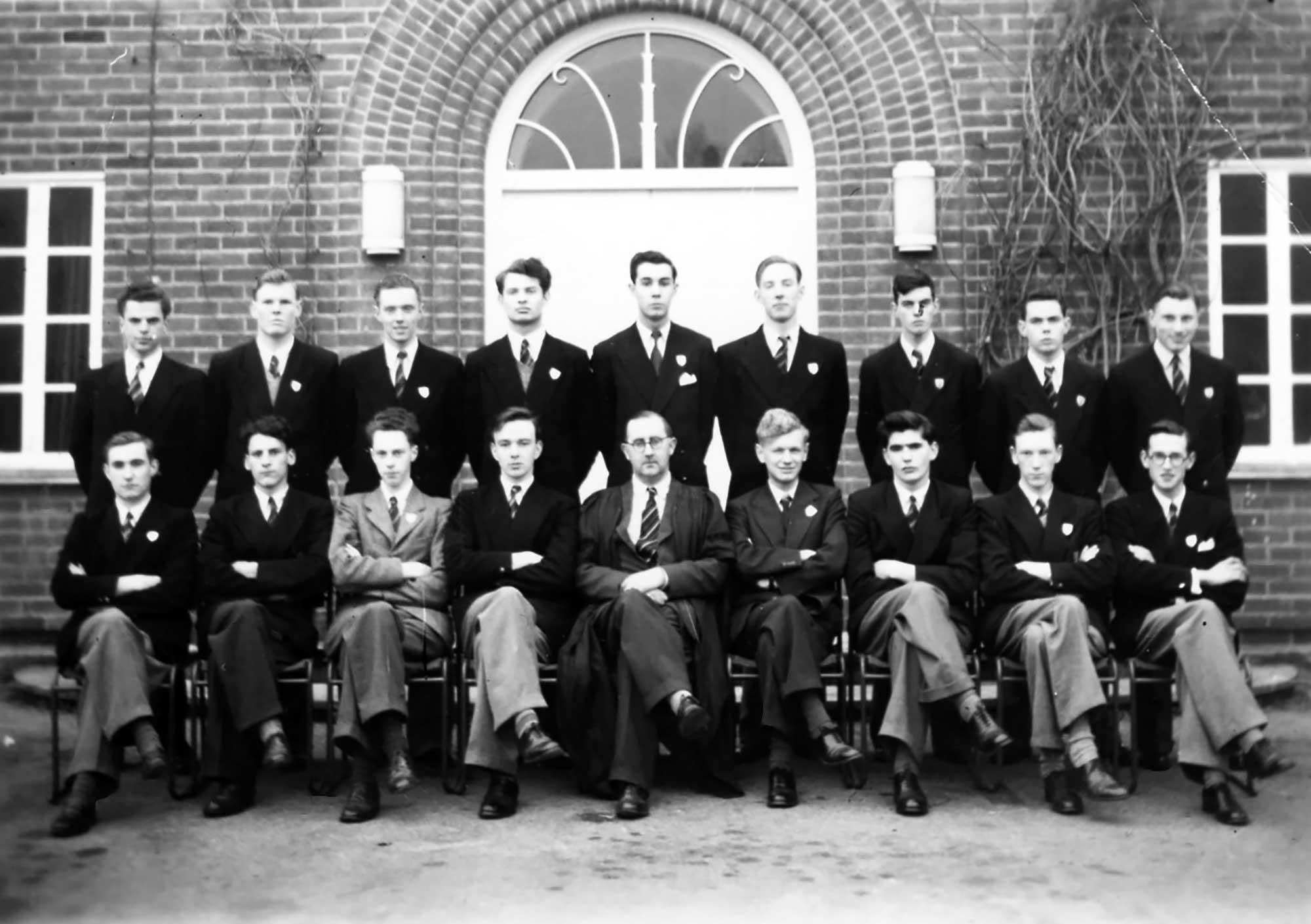 Front Row
John Minter (Head Prefect) sitting to Dr. J.A. Bourne's right.
Photograph supplied by John Minter. FGS 1946-1954
---
1960 - 1961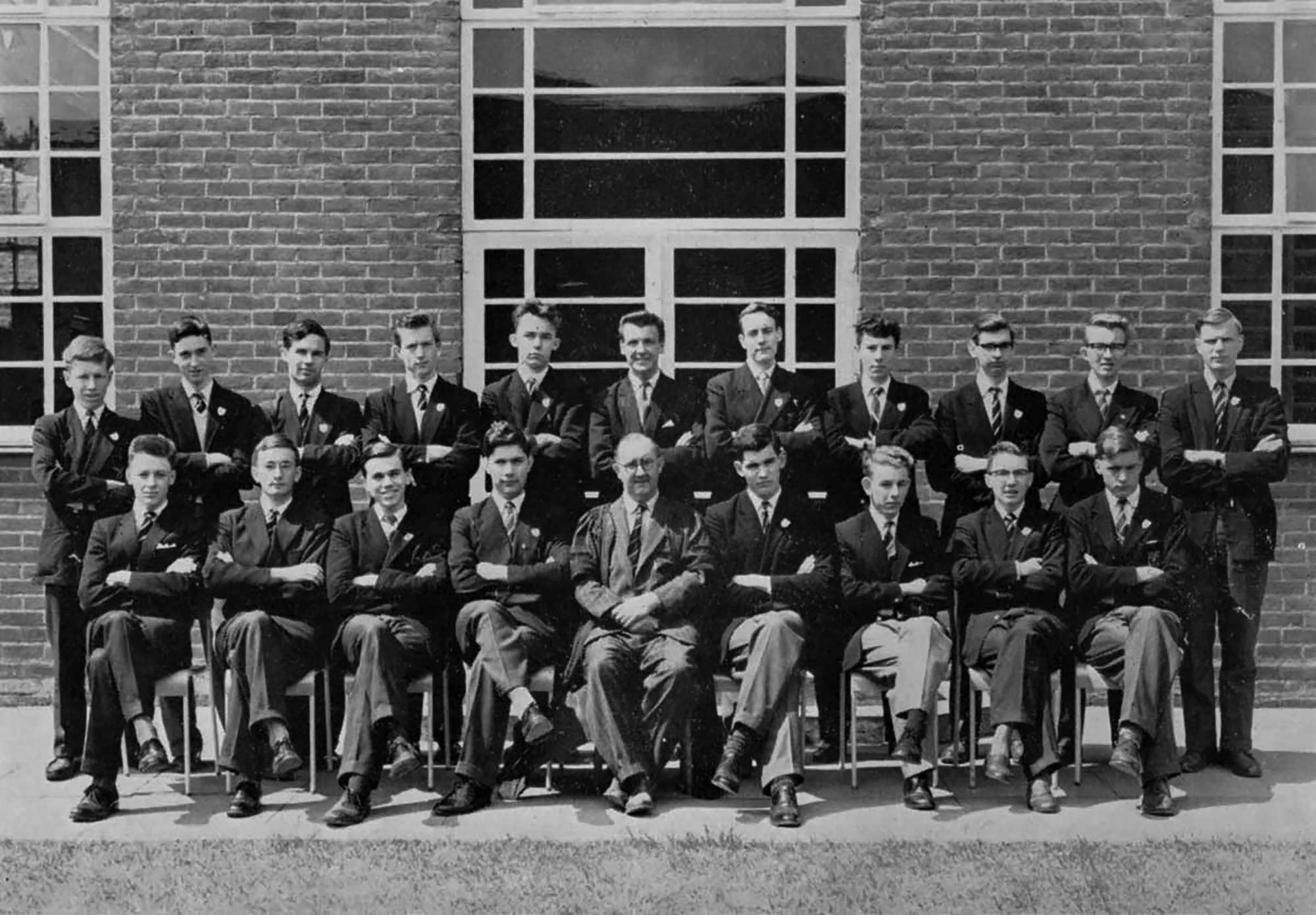 Back Row
G.J. Wickham, D.J. Gedge, P. Allan, J.W. Jewitt, unidentified, M.B. Mackey, C.M. Clegg, unidentified, D. Brimelow, I.A. Andrew, R.E. Schirrmacher.
Front Row
R.K. Fancett, C.E.H. Strutt, G. O. Roberts, D.J. Pollard, Dr. J.A. Bourne, P.N. Murgatroyd, J.F. Burnett, Terry Nichol, J. Sheail.
Photograph supplied by Mike Webb. FGS 1961 - ?
---
1961 - 1962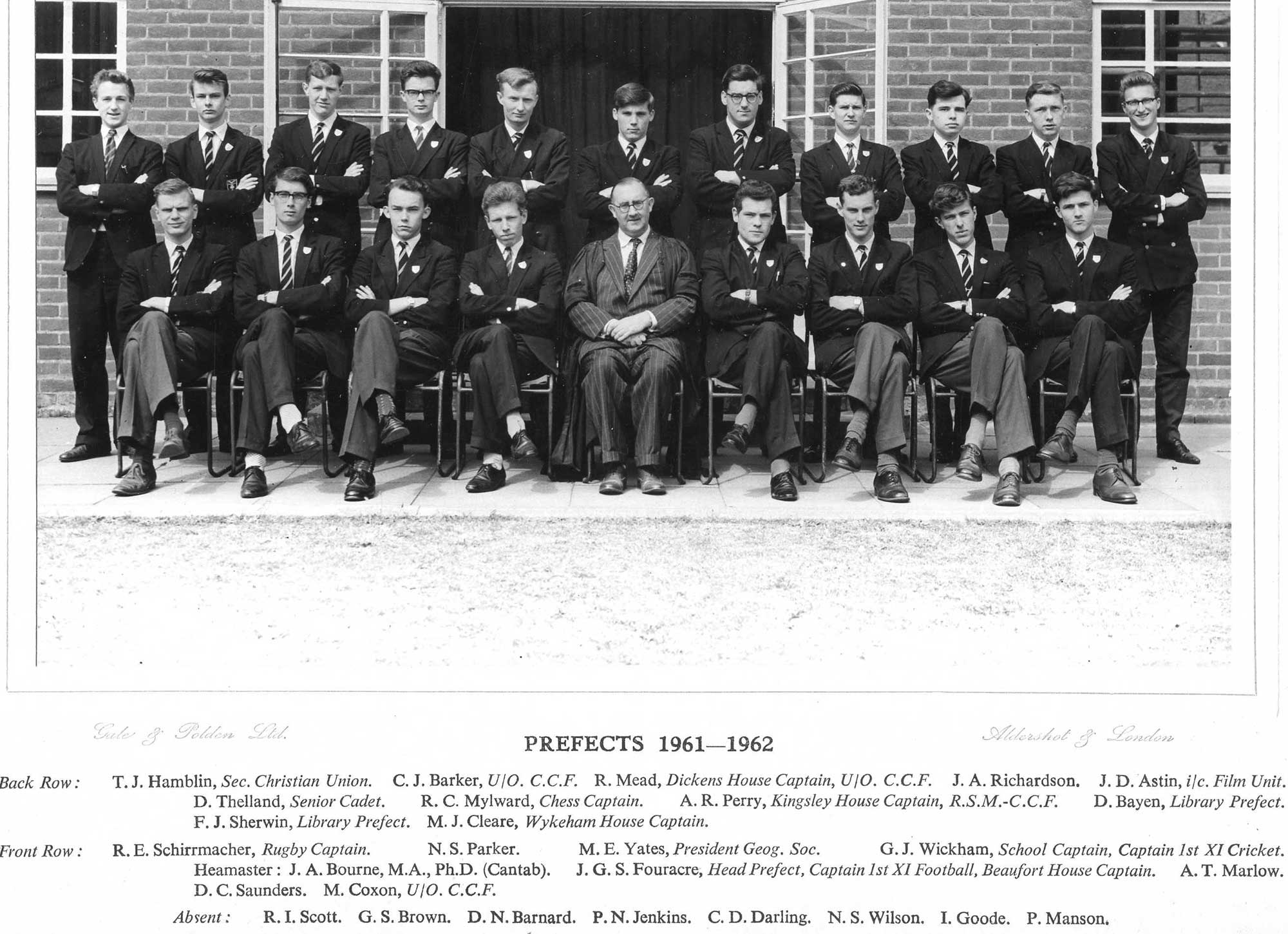 Back Row
T.J. Hamblin, C.J. Barker, R. Mead, J.A. Richardson, J.D. Astin, D. Thelland, R.C. Mylward, A.R. Perry, D. Bayen, F.J. Sherwin, M.J. Cleare.
Front Row
R.E. Schirrmacher, N.S. Parker (probably should be Nigel Packer), M.E. Yates, G.J. Wickham, Dr. J.A. Bourne, J.G.S. Fouracre, A.T. Marlow, D.C. Saunders, M. Coxon.
Photograph supplied by John Fouracre. FGS 1954 - 1961
---
1962 - 1963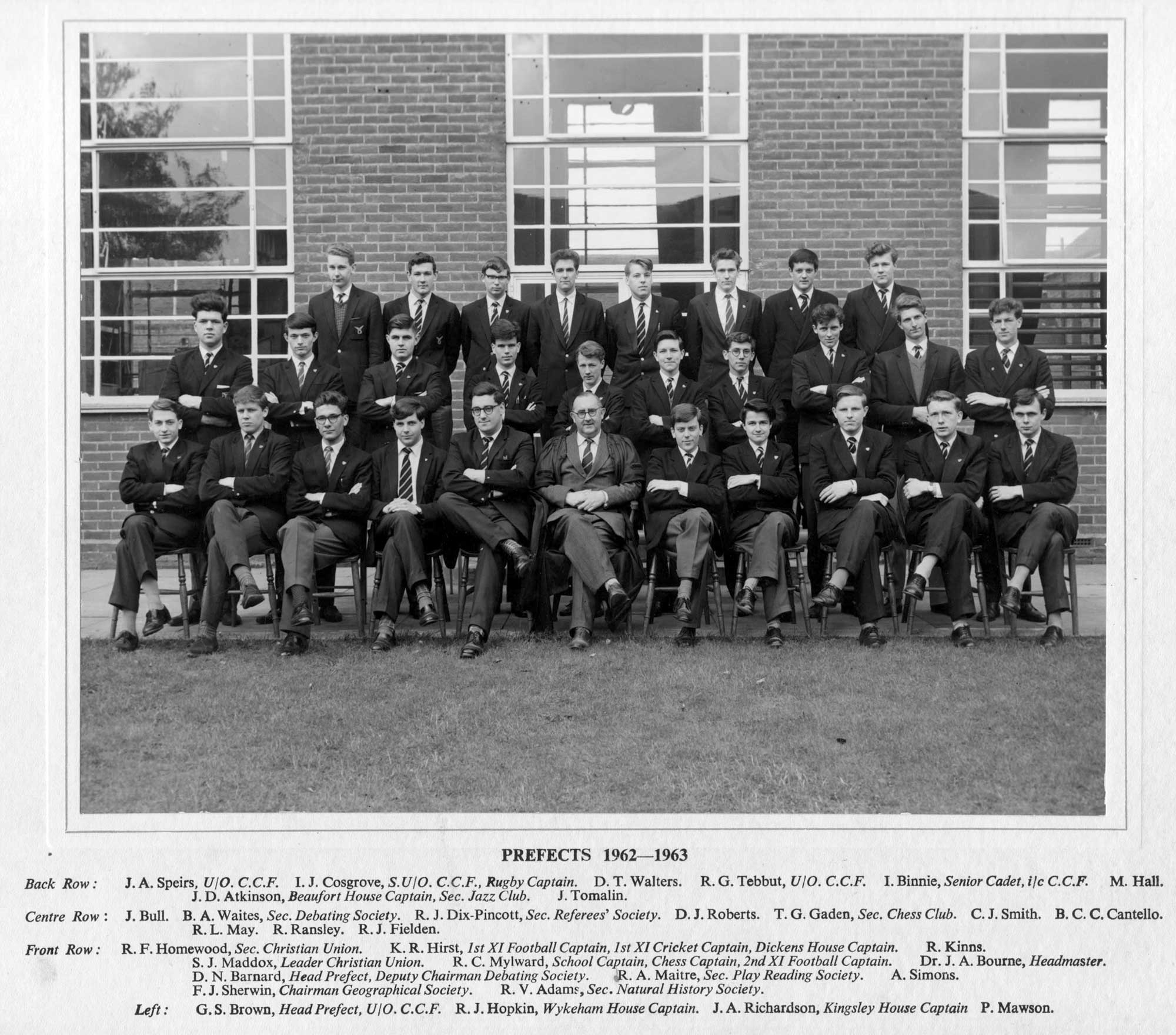 Back Row
J.A. Spiers. I.J. Cosgrove, D.T. Walters, R.G. Tebbutt, I. Binnie, M. Hall, J.D. Atkinson, J. Tomalin.
Middle Row
J. Bull, B.A. Waites, R.J. Dix-Pincott, D. J. Roberts, T.G. Gaden, C.J. Smith, B.C.C. Cantello, R.L. May, R. Ransley, R.J. Fielden.
Front Row
R.F. Homewood, K.R. Hirst, R. Kinns, S.J. Maddox, R.C. Mylward, Dr. J.A. Bourne, D.N. Barnard, R.A. Maitre, A. Simons, F.J. Sherwin, R.V. Adams.
Photograph supplied by David Walters. FGS 1956 - 1963
---
1963 - 1964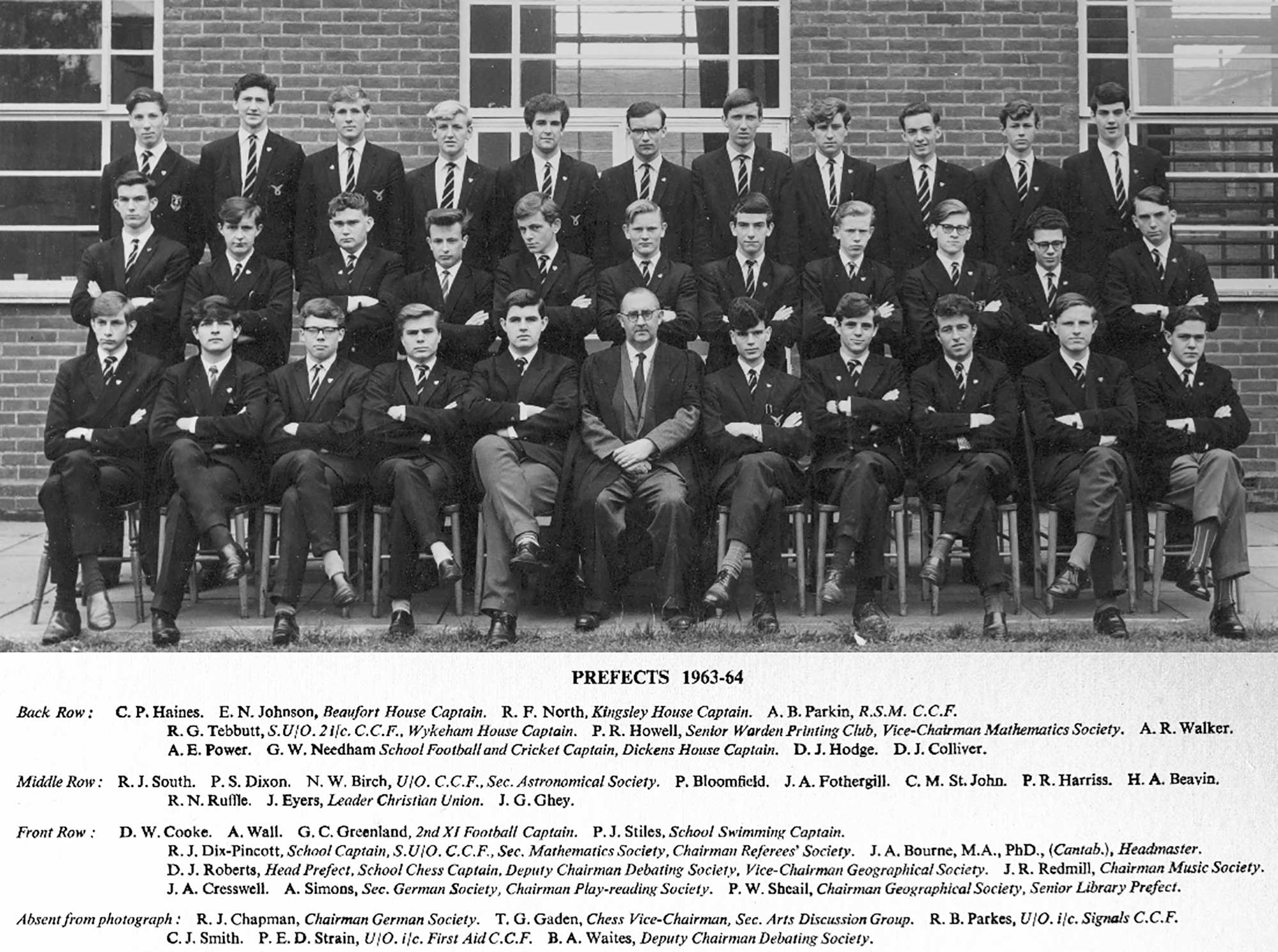 Back Row
C.P. Haines. E.N. Johnson, R.F. North, A.B. Parkin, R.G. Tebbutt, P.R. Howell, A.R. Walker, A.E. Power. G.W. Needham, D.J. Hodge, D.J. Colliver.
Middle Row
R.J. South, P.S. Dixon, N.W. Birch, P. Bloomfield, J.A. Fothergill, C.M. St. John, P.R. Harriss, H.A. Beavin, R.N. Ruffle, J. Eyers, J.G. Hey.
Front Row
D.W. Cooke, A. Wall, G.C. Greenland, P.J. Stiles, R.J. Dix-Pincott, Dr. J.A. Bourne, D.J. Roberts, J.R. Redmill, J.A. Cresswell, A. Simons, P.W. Sheail.
Note: Among the absentees is listed R.B. Parkes. The correct name is Robert Edward Parkes. Source: The man himself!
Photograph supplied by Bob Tebbutt
---
1964 - 1965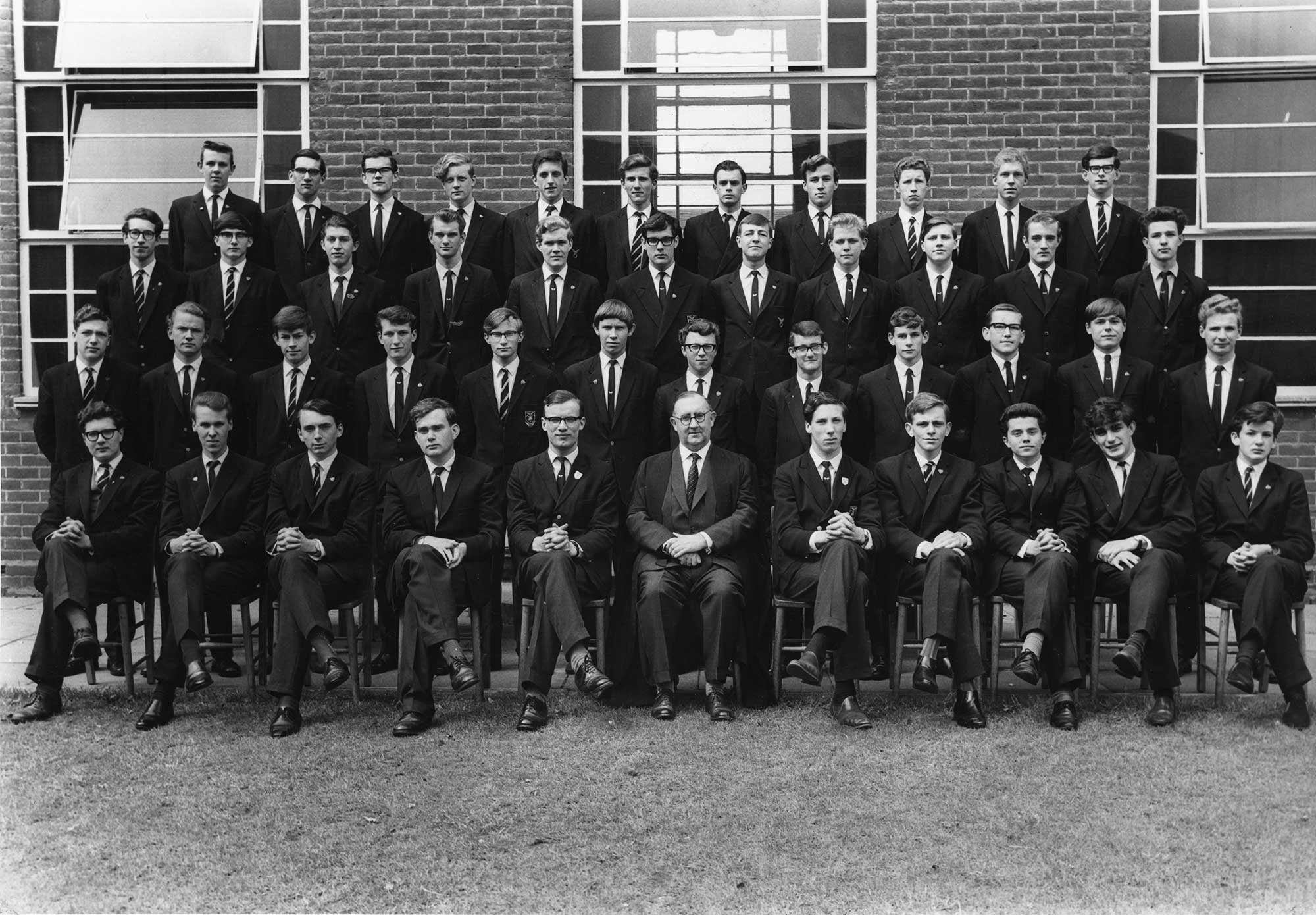 Back Row
Andrew Bradley, Paul Greet, Peter Greenfield, Paul Beardmore, Michael Hughes, Jeremy Hughes, Robert Polden, Stewart Duffin, Alan Mowat, David Allen, Bruce Burnell
3rd Row
Nick Baker, unidentified, unidentified, David Marlow, Mervyn Walker, Tim McDonald, Richard Twiney, Alan Teague, Richard Simons, Chris Adcock, Peter Gray
2nd Row
Alan Osmond, John Dexter, Graham Llewellyn, unidentified, P. Everett, Alec Walker, Roe, Greg Wood, Laurence Brett, Peter Phillips, John Treble, Philip Marlow
Front Row
James Baker, Tony Hazel, John Ghey, Nick Birch, Philip Howell, Dr. J.A. Bourne, Chris Haines, John Fothergill, Colin Roberts, Roger Vine, Ray Hazzard.

The majority of identifications are by Alec Walker, F.G.S. 1958-1965 with assistance from Russell Harvey also F.G.S. 1958-1965
Photograph supplied by John Ghey
---
1965 - 1966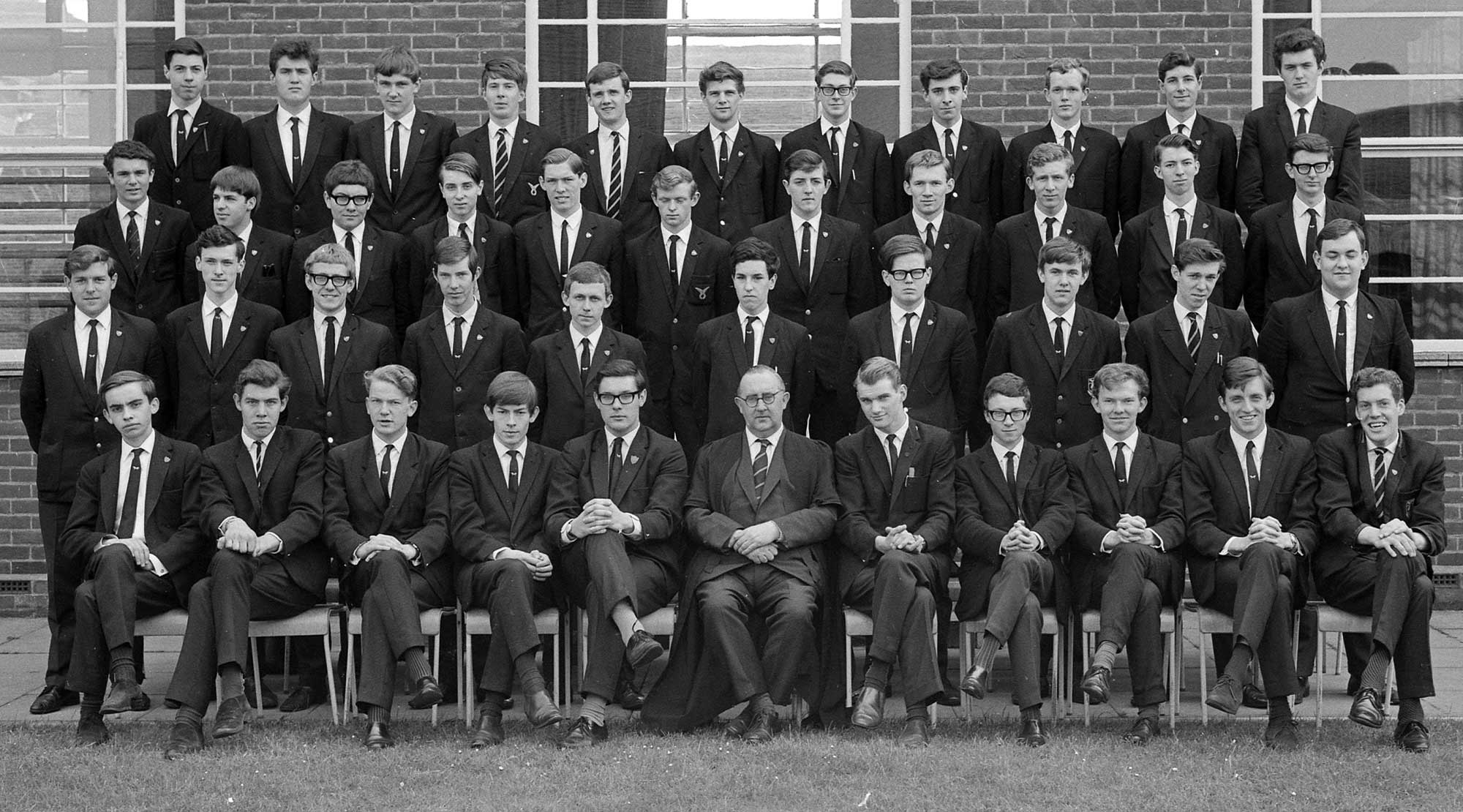 Back Row
O. Hensman, Michael Davies, John Sowerby, Michael Alison, Timothy Hughes, K. Ellis, Tony Casey, J. Hargrove, R. Case, D. Foster, Trevor Davies.
3rd Row
C. Hughes, D. Whitcombe, Howard McDermott, J. Bedser, Geoff Dalton, J. Maskell, P. Woodcock, Martin Earwicker, Robert Garrood, Barry Watts, M. Waller.
2nd Row
R. Hewitt, John Starkie, Eddie Trendell, Tony Newton, A. Winchcombe, Roger Thompson, Mike Carter, Graham O'Neill, R. Sherlock, Simon Newman.
Front Row
J. McIvor, R. Latham, John Dexter, Graham Llewellyn, Timothy McDonald, Dr. J.A. Bourne, D. Marlow, Roe, Timothy Walsh, M. Hughes, Christopher Dando.
Original photograph supplied by Mike Carter. FGS 1959 - 1966
Replacement (April 2020) by John McIvor who took the photograph.
---
1966 - 1967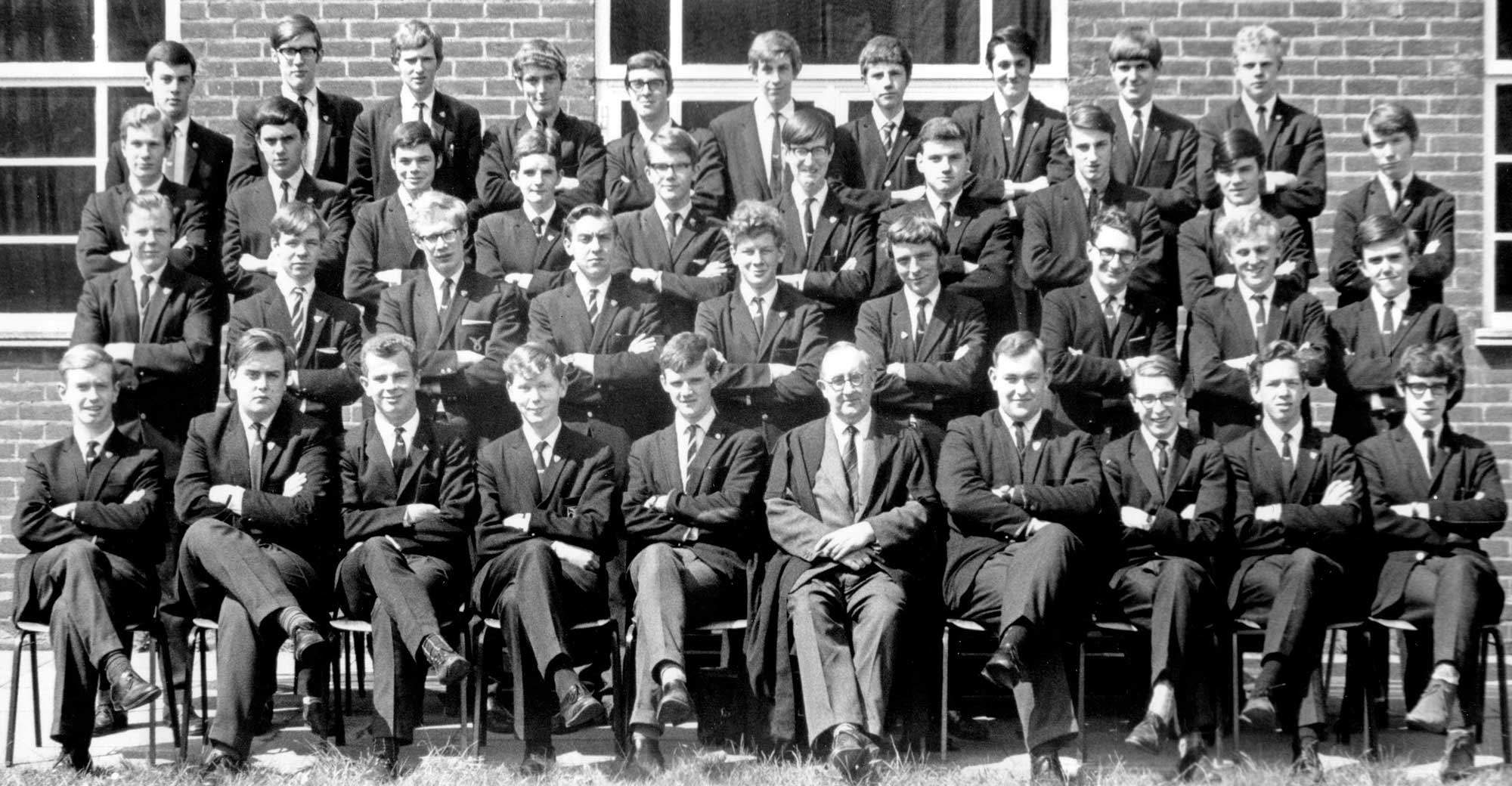 Back Row
Corbin, Hamilton, Makreel, Pashley, Webb, Lifford, Harwood, Rudge, McGowan, Neville.
3rd Row
Garman, Mower, Lambert, Hemmings, Vernon, Mudge, Bond, Hawkins, Blackwell, Eagan.
2nd Row
Long, Kemp, Bonsor, Swindon, Wheeler, Dodds, Rayne, Lord, Gilham.
Front Row
Seabrook, Gilham, Eastment, Labett, Hughes, Dr. J.A. Bourne, Newman, Bedser, Dalton, Jones.

Missing from this photograph - John Winterbourne.
Photograph supplied by Mark Rayne. FGS 1961 - 1967
---
1967 - 1968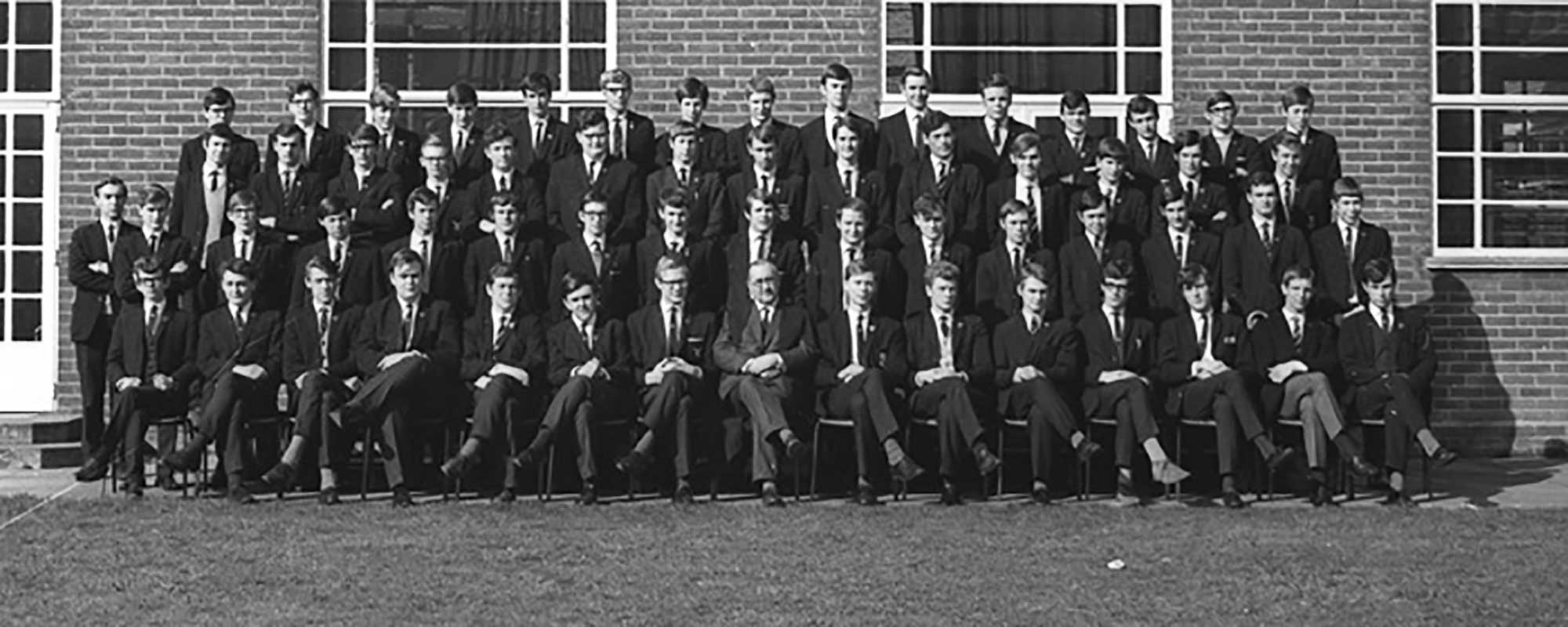 Back Row
Richard H. Molyneux, Kerry Tomlinson, Paul Kirkby, unidentified, John Kitt, unidentified, Peter Parsons, Chris Ward, unidentified, Phil Newman, Ian Coutts, John Blackwell, unidentified, Phil Roberts, unidentified.
3rd Row
Unidentified x3, Richard Allaway, unidentified, Denis Payne, unidentified x2, M.A. Jeffries, unidentified x2, Alan Cross, unidentified x2.
2nd Row
Peter Hall, Stephen Reeds, unidentified x 7, Chris Drew, remainder unidentified.
Front Row
Clint Marshall, Richard Munro, unidentified x5, Dr. J.A. Bourne (centre) and Kerry Jones, 12th from left.

Photograph supplied and taken by Paul Cooper. FGS 1961 - 1968
---
1972 - 1973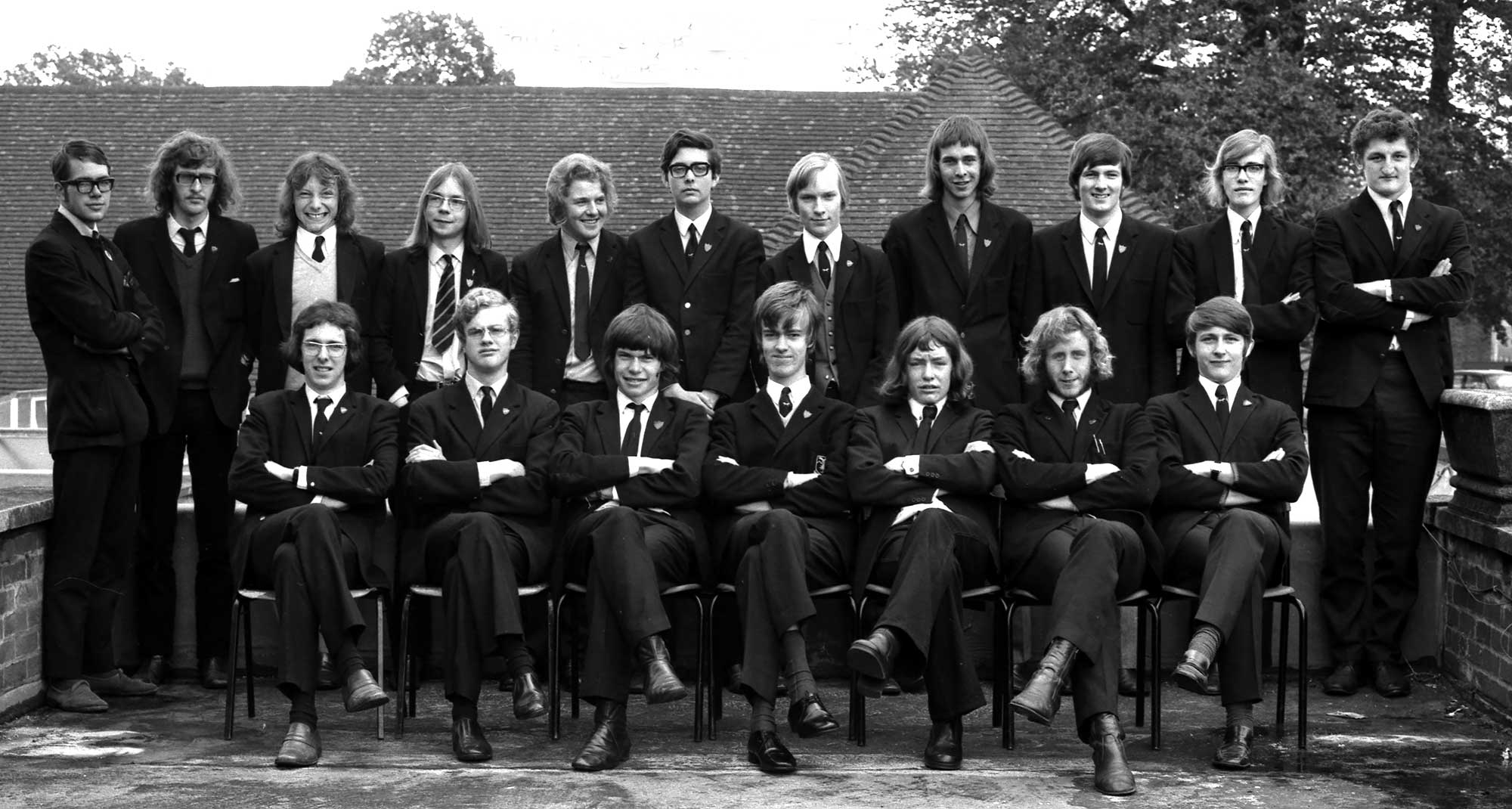 Back Row
Steve Cull, Steve Tingey, Richard Wilson, Keith Duncan, unidentified, John Jackson, Allister McCallum, Ian Closier, unidentified, Brian Winterbourne, Andrew Latty.
Front Row
John Flatt, Bill Henwood, Graham Tuck (Head Prefect) Stephen Timms (School Captain), Nick Scregg, Mark Sallows, Stephen Turner.

Prefects missing on the day are inset.
Unidentified, John Mallett, unidentified, John Cleden, Jeremy Biggs, Herbie Fowler, Nigel Bentley.
Photograph supplied and taken by Andrew Latty. FGS 1966 - 1973. Identifications by Andrew Latty, Stephen Timms, Roger Timms and John Whillans.
---