FGS is being extensively modified to take advantage of faster internet connections and mobile viewing.
Click here for details
. Many pages remain in an intermediate state and some links are broken.
Farnborough Grammar School
Prospect Avenue, Farnborough, Hampshire
Telephone : Farnborough 539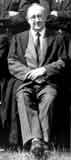 Farnborough Grammar School came into existence in September 1936 when the Aldershot County High School outgrew its premises in Highfield Avenue and the boys were relocated to Farnborough. The A.C.H.S. building was new in 1912 although it was then called the Aldershot Secondary School. It was co-educational from 1912 through to 1936 and most of its male teaching staff transferred to Farnborough, among them their Headmaster, A.E. Chapman, and his deputy, F.G. Solloway. Mr. Solloway had been at Aldershot High since the day it opened.

A booklet written by school master Basil Jowett in 1957 to commemorate F.G.S.'s 21st anniversary provides a comprehensive history of the school and its predecessors.

All additions, corrections and comments are welcome. Click here to send a message with your default email program…

F.G.S. - 1954 to 1961
Site last updated 13th July 2019


---

Update progress
There is a new menu. The content is currently not much different to the old one. It requires tweaking technically first and then the content will be addressed.

The Menu adopts the so called 'Hamburgerְ' style on smaller screens. (Under 480 pixels wide.)

MK. 25th August 2019
---
Finding the originally submitted images to see if they can be improved or made larger is proving to be troublesome. Although I have not deleted any FGS emails since the site began some of those emails appear to have lost their attachments. Although the message refers to an attachment it is simply not there, fortunately there have not been too many of those.

The main problem is that the quality of the originals is not always very good and some were always so small that they were never used. A disappointing number are tiny images embedded within Word documents which has always been a good way of destroying quality. Some were sent through the post and returned so there is no hope for them.

But not all bad news. My original negatives were scanned with a Nikon Coolscan scanner and much better results are being obtained by photographing them with a 36 megapixel SLR using a special contraption and a flashgun. The old colour slides are in a poor state but Photoshop has made a passable job of restoring them even though the colours are definitely not at all natural. The amalgamation of several single image pages in to one with several images has reduced their number from 2,157 to 2,049. There may be some broken links.

MK. 21st August 2019
---
Quite a lot of pages have been switched to the new format now, too many to individually identify. Some pages have had their images rescanned (my own photos) or at least reprocessed (those from elsewhere). Where a whole page is of higher resolution images a footnote to that effect has been added - more as a reminder to me than anything else.

There has been a tentative move into smaller text on smaller viewing devices but that is very much at an early stage.

The two column Index pages, images with text alongside in both columns are not working too well on small screens and a different approach will be tried which may keep the text better aligned with the images. (This was implemented on the main Index page on 18th August and is an improvement.)

I knew it would be a long job and I wasn't wrong. I still have no idea how best to tackle the Publications pages which are totally incompatible with small screens.

MK. 16th August 2019
---
Adjustments to simple pages, that is text only and text with a small number of left aligned pictures, are not difficult to adapt to the new layout and a large number have been done already. The adjusted pages are easily identified by their centrally placed title. They were all centred on the old site but that was lost by the switch to the new system and they all adopted left alignment. The central realignment provides an easy means to see if any individual page has been given attention.

Pages which were laid out in a tabular fashion with fixed cell sizes have not been touched as yet and that includes all the near 1,000 Publications pages. Probably each booklet will be presented as a simple long page with some sort of Index to aid access. Maybe not ideal but relatively simple to do and spare time can be in short supply.

Looking back at so many pages produced over a span of twenty years has revealed many formatting inconsistencies which will be fixed in due course - if enthusiasm for it does not wane too much.

All the font sizes remain the same irrespective of the size of the viewing screen, only pictures scale to size at present. An attempt will be made to improve that situation in due course - probably.

MK. 12th August 2019
---
Quite a lot of changes today but the most noticeable is that the page width is no longer fixed at 1,000 pixels, it can be dragged to any width up to 4,320 pixels or reduced to a strip. In time the text may be constrained because it can be a long line for the eye to follow.

There is a big conflict between the fixed image sizes used since 2001 and that will take a long time to fix but the Menu behaves better than anticipated and pages make some attempt to adapt themselves to a mobile phone sized screen.

The likely new look of picture pages may be seen on the Wally Cotgrieve and Doc Naish pages. The negatives of all the Photos featured are still available and will be reprocessed at much higher resolution in due course.

The Index (front) page has also been revised. There is a single column version and a two column version that looks more like the old one. (The single column version has been removed - 14 August 2019.)

The code used on The Index page and many others is totally incompatible with the need to scale pictures to different sizes. Both of the new versions use an entirely different technique.

MK. 10th August 2019
---
Several long sessions at the keyboard has resulted in every page file and every link from those files being updated to the new standard well ahead of yesterday's pessimistic schedule. You may notice that pages ending in htm now end in shtml.

To protect saved links, Google searches etc. it has been arranged that attempts to access htm pages will automatically be switched to the shtml equivalent.

The menu which used to be embedded into every page now exists only as a single stand alone file which is injected into each page as it loads into the browser making web site maintenance much easier. At present the net result is that the site should look exactly as it did before but different under the bonnet.

The object of the exercise is to make f-g-s mobile compatible. At present the menu itself isn't so that must be redesigned and a major problem is that the images have always been displayed at a fixed size. It may have been a good idea 20 years ago but it is the last thing one wants if a page is to be scaled to fit the size of the viewing screen. Every image will need to be changed and some of the originals are no longer available to rescan as they were loaned via the post and returned.

Eventually is will be possible to fine tune the look of the site to suit all popular screen sizes but that is probably a long way off. Right now you should see no changes. The temporary site will be removed within a day or two if no unforeseen problems manifest themselves.

MK. 9th August 2019
---
There are 2,157 pages in this website with tens of thousands of links and every page suffix must be renamed. Software deals with the links but it can take three minutes per page if it happens to be linked to every other one, via the menu usually, so progress is slow.

After four weeks every folder has been changed apart from 'Publications'. Al-Fa, Annual Records etc. and there are an awful lot of them. Some are done but about 890 remain. It will likely take another month if boredom doesn't get me first!

When they are all done the real work begins.

MK. 8th August 2019
---
This website is horribly dated. It started in 2002 with around 150 of my own FGS photos in an age of dial up internet. One of the design aims was to keep each page under 100 kilobytes in size. When former pupils submitted photos they had to be placed where they seemed to fit in best with the existing ones. Over the years that technique has resulted in a rather messy design.

17 years later the internet runs hundreds, thousands even, of times faster and most viewing is done on mobile devices.

This website makes no allowance for mobile viewing and the navigation is unduly complex catering as it does for those who back in 2002 didn't want to download large images. So changes are afoot; it may take months, perhaps even years but a start must be made or nothing will ever get done.

The plan is to allow pages to scale all the way from a mobile phone screen to full HD. A practical problem is that some of the submitted images may not be available in sufficiently high resolution but little can be done about that.

For simplicity image pages will likely be shown as a vertical list with captions below. All the 'click for enlarged versions' must go. Some pages are designed in a way which cannot be made suitable for mobile viewing and will require a radical redesign. The emphasis will have to be on ease and simplicity or the job will never be finished.

Another thing that must go is the menu which is old and cumbersome and makes updating the site far more difficult than it needs to be. For ease of future maintenance files will be moved from .htm to .shtml. That may make some pages inaccessible for a while without manual URL editing.

Not ideal but modifying the site piece by piece is much more likely to result in the job being completed eventually than starting from scratch.

The old site - modified perhaps - should remain available from the Home button on the menu bar above. If all else fails a copy of the site frozen as at today's date has been placed here.

The initial changes will not be visible to the viewer or possibly break the site completely, hard to forecast! This note will be updated at significant junctures.

MK. 13th July 2019
---